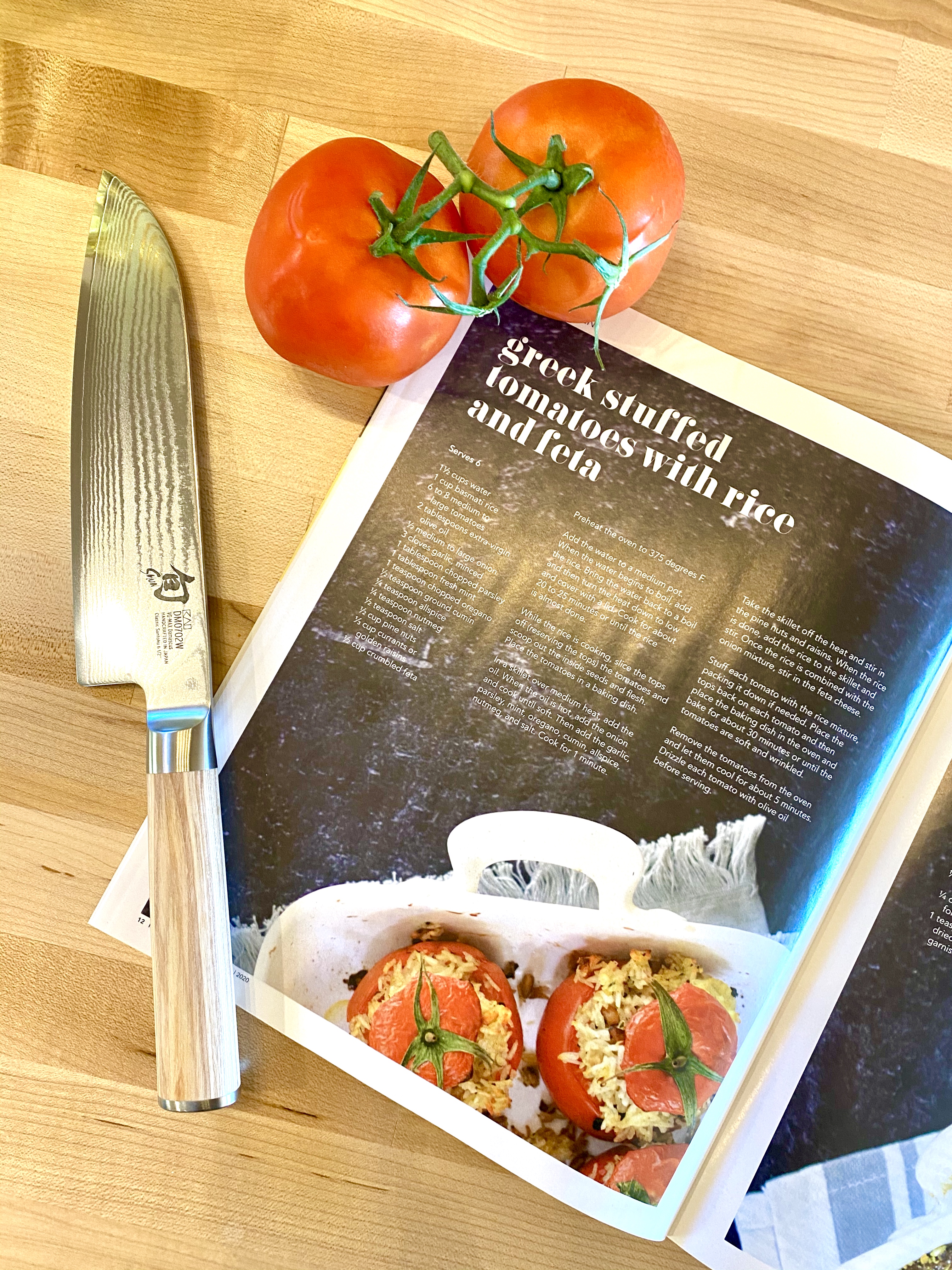 Greek Stuffed Tomatoes with Rice & Feta
Serves 6
1 1/2 cups water

1 cup basmati rice

6 to 8 medium to large tomatoes

2 tbsp olive oil

1/2 onion

3 minced garlic gloves

1 tbsp chopped parsley

1 tbsp fresh mint

1 tsp chopped oregano

1/2 tsp cumin

1/4 tsp allspice

1/4 tsp nutmeg

1/2 tsp salt

1/2 cup pine nuts

1/3 cup golden raisins

1/2 cup crumbled feta

Preheat oven to 375 °F

Add water to a medium pot.

When the water begins to boil, add the rice. Bring the water back to a boil and then turn the heat down to low and cover with a lid. Cook for about 20-25 minutes or until rice is almost done.

While the rice is cooking, slice the tops off (reserve the tops) the tomatoes and scoop out the inside seeds and flesh. Place the tomatoes in a baking dish.

In a skillet over medium heat, add the oil. When the oil is hot, add the onion and cook until soft. Then add the garlic, parsley, mint, oregano, cumin, allspice, nutmeg, and salt. Cook for 1 minute.

Take the skillet off the heat and stir in the pine nuts and raisins. When the rice is done, add the rice to the skillet and stir. Once the rice is combined with the onion mixture, stir in the feta cheese.

Stuff each tomato with the rice mixture, packing it down as needed. Place the tops back in each tomato and then place the baking dish in the oven and bake for 30 minutes or until tomatoes are soft and wrinkled.

Remove the tomatoes from the oven and let them cool for about 5 minutes. Drizzle each tomato with olive oil before serving.
Mediterranean dishes have been praised as healthful but they are anything but diet food. These recipes are a lovely taste of Greece and all the aromatic and delightful ingredients that give Mediterranean cooking so much character. Get more finger-licking recipes that make you say OPA! By requesting my FREE magazine – Click contact me and in the message box type: Send me a copy of The Dwell with Dallas Magazine!