You're not just selling a house, you're selling a lifestyle. Think beyond your "house data" such as square footage and room sizes. Highlight home features that resonate with the lifestyle buyers will get if they purchase your home.
Whether that's entertaining space, smart home tech, a peaceful outdoor setting or a hotel like Master Suite – you can optimize your space to show off the lifestyle and help potential buyers experience what it would be like to live there. Don't forget about local amenities and nearby attractions!
Don't Freak Out but…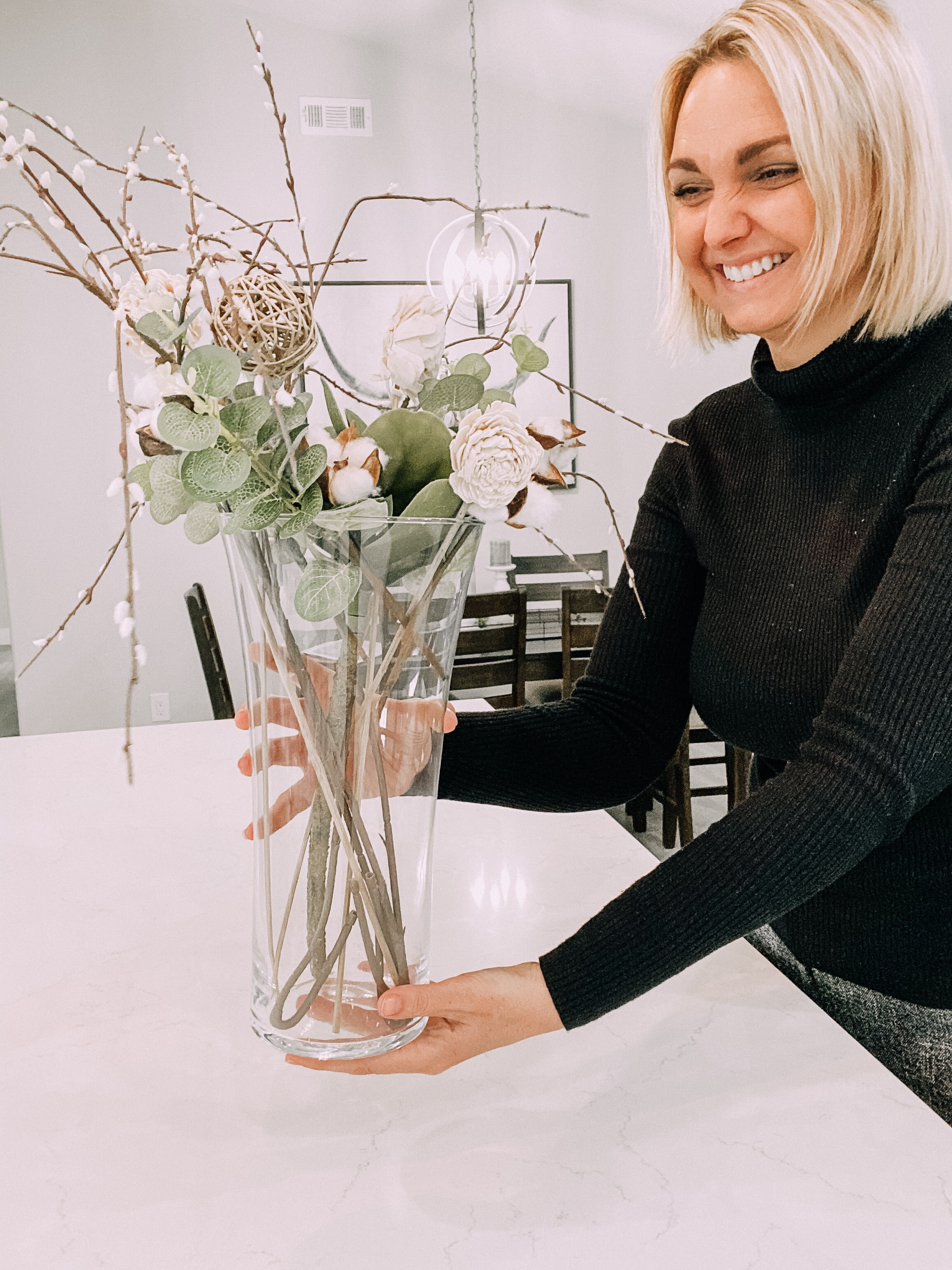 FREE STAGING UP TO $500 FOR LIMITED TIME
Not only do you receive Free Staging, when you sell your home with us, you always receive professional cleaning, professional photography, virtual tour included in our services. With our modern marketing, along with presenting your home in it's best light, we'll get you the most money for your home in the least amount of time. And we donate 20% of our proceeds from your purchase on your new home, towards your closing costs or a local charity.
Professional Home Staging gets you more money for your home!
Staging Helps Your Home Stand Out.
Staging Maximizes the Space.
Staging Can Lead to Higher Offers.
Staging Helps Homes Sell Faster.
Times are changing and you're thinking about moving the family into a new home. But before you start searching for your next dream home, you'll need to figure out when you're going to sell your existing home. The decision is a complex one.
Selling your home is kind of like a sport – If you want to win, you need to take the steps that others won't! So it makes my heart happy when homeowners who are thinking about selling, take the first step and request my free guide! (Cue the happy dancing!)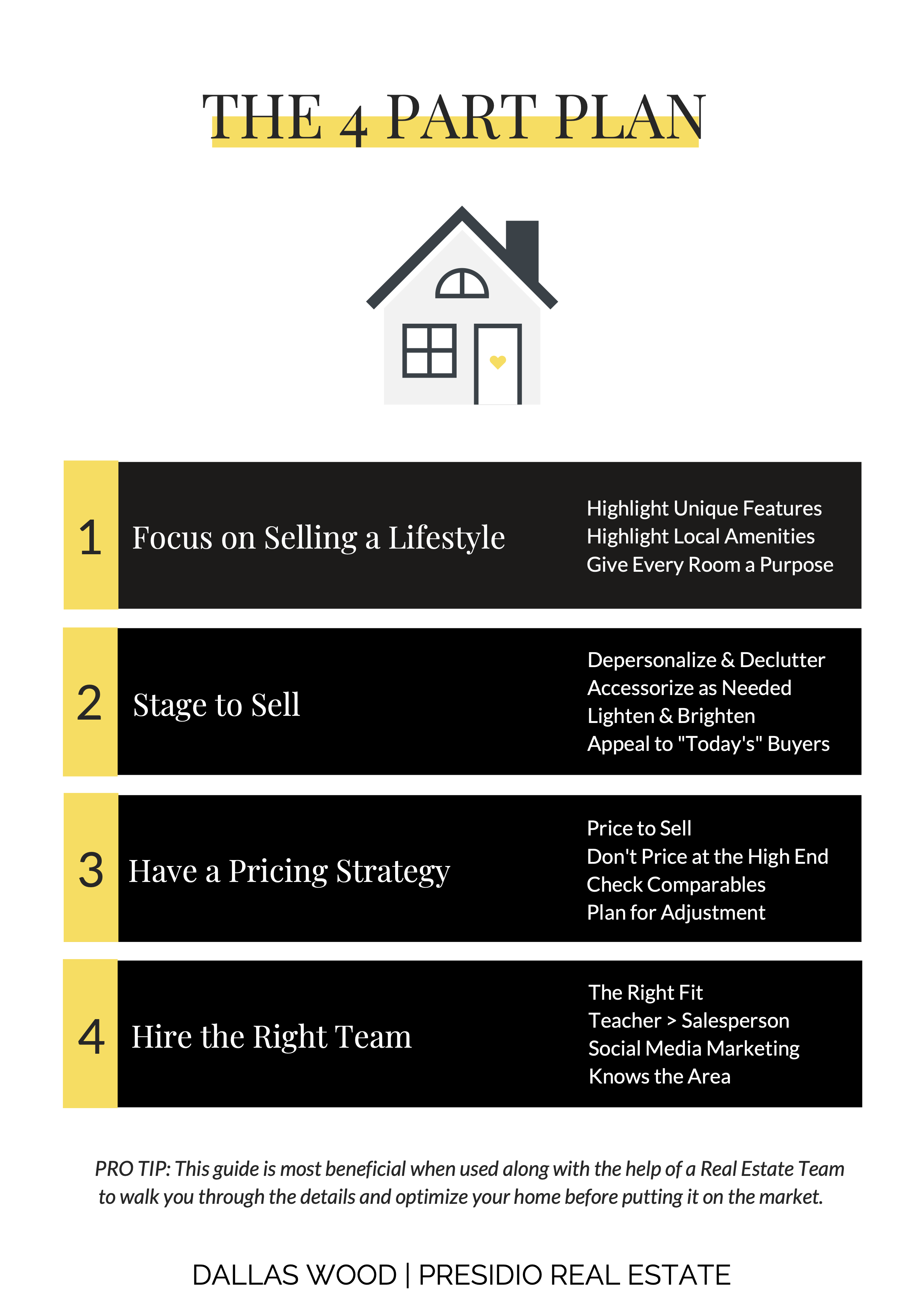 PART 2: Stage to Sell
Depersonalize and Declutter:
Take down the macaroni picture frames, family photos and sports trophies so that potential buyers walking through your home can envision themselves living there without being distracted. Decluttering is also important. No one wants to see your "stuff" – they want to see the home features, your layout and how they can best use each room. So aim to have counters, dressers, desktops and shelves clear of any clutter!
If your home is currently filled with family photos, you might need a few new accessories to add some style to your spaces. Look for neutral items such as a decorative wreath, a vase to put flowers in, a new front door mat, fresh rugs and towels in the kitchens and baths, new throw pillows for a splash of color and a plant for some greenery. It doesn't have to be complicated!
Lighten and Brighten:
When it comes to making sure your home looks it's best, the key is the brighter, the better. Some tips for lightening your space include: Adding mirrors to reflect light, washing windows and removing screens, updating light fixtures to something more modern and adding in lamps or accent lighting to dimly lit spaces. A reading lamp on a desk, under cabinet lighting in the kitchen and updated bathroom lighting can make a big difference without spending a significant amount of money.
Appeal to Today's Buyers:
Know who you're selling to and what their TOP wants and needs are. Many of today's buyers are looking for separate laundry room spaces, designated office space, neutral paint colors, updated kitchens and baths as well as smart home tech. If you are able to add or highlight those features, you'll be able to attract more interested buyers (which means increased demand for your home).
Need some staging inspiration? Check out the Instagram accounts of some of your favorite home decor stores. Crate & Barrel, Pottery Barn and Anthropologie have beautiful feeds showing different rooms and decor
ideas.
PART 3: Have a Pricing Strategy
Price to Sell: To generate the most demand, you'll want to price your home to sell which means pricing it at or slightly below the market value. Your home is going to have the most activity when it first hits the market. Make sure you're capturing the most buyers by pricing it right.
Don't Price your Home on the High End: Many sellers believe the myth that they should price their home on the "high end" so they have extra room for negotiation. The problem with this thinking is that it will attract less buyers right away and will increase the length of time your home sits on the market which can ultimately decrease your final sale price.
Check Comparable Homes: Understand what is going on in your market. Your Real Estate Team can put together a Comparable Market Analysis which will compare your home to other homes on the market as well as recently sold homes. You'll want to look at what features your home has compared to the other homes and make adjustments with your price as needed.
Plan for Adjustment: Pricing your home is as much a science as it is an art. There are several variables to take into consideration as well as the ever-changing market. Make sure that when you list your home for sale, you and your Real Estate Team have a plan in place for 30 days out (or whatever makes sense for your market) to make a price adjustment if you're not getting the activity you should be getting. Having this in place from the get go will help you feel prepared and prevent your home from sitting on the market for too long. Remember the longer a home sits on the market, the less attractive it looks to potential buyers and the more they think they can "get a deal". You're better off to make a price adjustment before you get to that point.
PART 4: Hire the Right Team
1)Hire the Team Who Feels Like the Right Fit:
Before interviewing a Real Estate team, look them up online. Check out their social media profiles and their "About Section". This should help give you an idea of what it will be like to work with them before you even meet with them. That's a good start. Then, when you meet with them, consider how their personalities will work with yours. How will they interact with other agents, what are their negotiating styles and how do they communicate? You're going to be spending a lot of time talking to them so you'll want to hire a team that you jive with.
2)Teacher > Salesperson:
"You don't want someone with the heart of a salesman, you want someone with the heart of a teacher." – Dave Ramsey Working with a Real Estate Team who have the heart of a teacher will educate you about the process and set you up for success. They won't be pushy and make you feel pressured. They will instead give you options and explain what outcomes they could result in.
3) Social Media Savvy:
Marketing your home on social media should be a KEY piece of their marketing strategy. Check out their Facebook page or Instagram account to see if they're active on social media. You'll want to hire a team who is utilizing these modern marketing methods in order to maximize your home's exposure and reach as many potential buyers as possible.
**Keep in mind, oftentimes listings are marketed with Facebook ads, so you may not see actual listings on their feeds. But you'll want to check if they are active on their platforms and then ask them about their strategy when you meet with them.
4) Knows the Area: Have they done their research on your neighborhood and local community? Part of marketing a home involves marketing the community, nearby attractions and local amenities. This should be part of their marketing plan so don't forget to ask about this when you sit down with them.
Schedule Your Virtual Consultation
This is so much MORE than me asking for your address and sending you an automated home value, or a generic recorded webinar.
My live virtual consultation with you will be in the comfort of your home, in your favorite PJ's. I'll have your favorite beverage delivered to your home (if available) and we'll sign online together. We can see each other or if you don't feel comfortable (or just don't feel like doing your hair or makeup) I can share my screen and you can hide behind yours. The Home Seller Consultation is the foundation to a successful home sale.
Here's what a selling consultation would look like with me:
I want to have a conversation with you. I want to learn your story. I'll share FAQ's when selling your home during the Covid-19 outbreak as well as learn your motivations for selling (This has a huge impact on your custom marketing strategy!). Why did you buy this house in the first place? What do you love about it? The more you can tell me, the better so that I can market it to attract the right buyers and give you a customized action plan for prepping your home for sale. You're an expert on the house, you have a lot of insider information.
After our conversation (that I promise feels much more like having a cup of coffee with a friend than like me running through powerpoint presentations and begging you to sign a contract, I will create your custom pre-listing action plan. This will include things like staging, painting, furniture arrangement, and any touch ups or repairs you should take care of. I'll help you determine what paperwork you're going to need to have ready to get things moving!
Home Seller Cove-19 FAQ's
IS LISTING YOUR HOME DURING THE COVID-19 OUTBREAK A BAD IDEA?
WHAT ABOUT SOCIAL DISTANCING & SHOWINGS?
WHAT FINANCIAL RESOURCES HAVE BECOME AVAILABLE FOR HOMEOWNERS?
HOW IS THE NATIONAL ASSOCIATION OF REALTORS ADVOCATING HOMEOWNERS?
WHAT IS THE PURPOSE OF THE NEW COVID-19 ADDENDUM TO THE PURCHASE CONTRACT?
WE'LL COVER THE TOOLS I HAVE TO AVOID UNNECESSARY SHOWINGS.
Some of the techniques we use to help your home stand out and get the most money in the least amount of time are:
Professional deep cleaning to present your home in it's best light.

We include professional photography and 3D virtual walk through to help attract buyers and create the best first impression possible.

We include custom video to showcase your homes best attributes, help buyers visualize themselves in your home and stay on top of mind while looking at other homes.